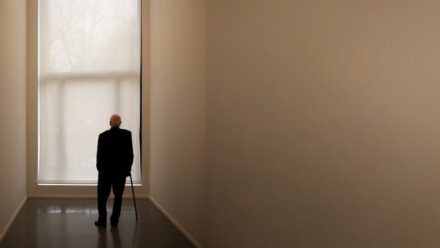 On Sunday, May 21, at 1 pm, the Crandell Theatre and the Ellsworth Kelly Studio will present
a free screening of the 2007 documentary, Ellsworth Kelly: Fragments. The afternoon is part
of a year-long centennial celebration of one of the most influential American artists of
his time and a long-time resident of Spencertown. A conversation and Q&A with
the filmmaker, Edgar Howard, President of Checkerboard Film Foundation, and Jack Shear,
President of the Ellsworth Kelly Foundation, will directly follow the film.
"Ellsworth was a film lover and the Crandell Theatre was an important resource for him
beginning when he first moved to Columbia County in the 1970s," said Shear, the late artist's
husband and now President of the Ellsworth Kelly Foundation. "He really appreciated having
a theater so close to home." The Ellsworth Kelly Foundation and Jack Shear have long been
major supporters of the Crandell. "It's such a rare treasure to have
this theater in Chatham," he added. "It's an important anchor for the community."
Tickets for the free sceening and Q+A can be reserved online at
https://crandelltheatre.org/film/ellsworth-kelly-fragments/.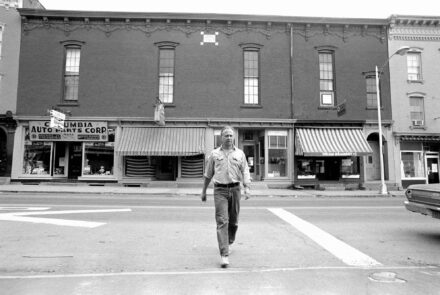 Kelly crossing Chatham's Main Street, circa 1973, by Gianfranco Gorgoni, courtesy Ellsworth Kelly Studio
© Ellsworth Kelly Foundation.
May 31, 2023, would have marked Kelly's 100th birthday. On the occasion of his May 31
centennial, a year-long celebration will showcase the artist's indelible legacy. This
collaborative event will include exhibitions and installations at the Art Institute of Chicago,
Glenstone Museum, and the Museum of Modern Art, among others; new publications;
multiple gifts of artworks to museums; grant awards from the Ellsworth Kelly Foundation; a
scholarly symposium; and new digital initiatives to ensure that Kelly's legacy endures
for another 100 years, and beyond.
Since the beginning of his career, Kelly's emphasis on pure form and color and his impulse
to suppress gesture in favor of spatial unity played a pivotal role in the development of
abstract art in America. Kelly insisted on the connection between abstraction and nature,
from which he extrapolated forms and colors. In this hour-long documentary, Kelly
revisits the Paris of his early twenties, uncovering early influences that became leitmotifs
he would return to, reiterate, refine, and re-work for decades to come.
(Top photo by Jack Shear, courtesy Ellsworth Kelly Studio © Ellsworth Kelly Foundation.)