Onscreen Advertising at the Crandell
Join the dozens of local businesses who advertise on the historic Crandell Theatre's big screen at local, affordable rates.
Unbeatable rates starting at just $85/month
No long-term contracts
Special pricing for half-year prepayment
64 repeated placements every month
Viewers not only see your super-sized ad, they remember it
Moviegoers have three things in common: They are in the same area as your business, they spend money on consumer goods and services, and they're waiting in front of a large screen with heightened anticipation for a movie to begin. Seeing local advertising on the big screen alerts them to new opportunities to discover and patronize the businesses in their community, solidifying the reputation and authority of each of those businesses in their minds.
For as little as $85/month, your cinema display ad will appear on the big screen at the Crandell Theatre prior to the start of every showing of every film for an entire month. There are no long-term contracts. You can advertise for a single month or choose to prepay for the full year at a discounted price. You can also change and update your slide as often as you wish.
Why Choose Cinema Display Ads?
The movies are different from other media. Cinema's immersive environment creates a memorable experience your company can tap into. It also fosters much more attentiveness to pre-movie messages. The mindset of the moviegoer is receptive, responsive, engaged, happy and eager for an afternoon or evening of quality entertainment. The result is ad recall much higher than you'd get with online advertising. People not only see your ad at the Crandell, they remember it.
There is even compelling scientific data to support this. In the first research of its kind, cinema advertising network NCM used state-of-the-art biometic technology to measure the unconscious physiological responses of moviegoers to ads shown to them in theaters. Not surprisingly, they were considerably more engaged than they were when shown the same type of ads on TV or the Internet. The research revealed not simply what people are thinking about advertising and media content when seen in different venues, but what they are feeling. In fact, the "lift in brand resonance" following exposure to ads on cinema screens was some 75% higher overall. That's off-the-scale brand engagement, especially at the hyper-local level.
Our Audience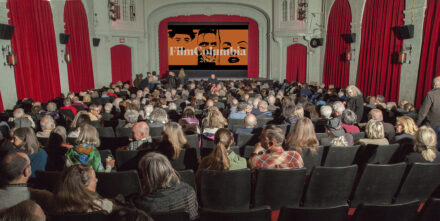 With its huge twenty-four-foot wide screen, the Crandell Theatre has been enlightening and entertaining tens of thousands of area residents for almost 100 years. Our audience members consist of mostly college-educated, engaged local residents and second-home owners with discretionary income in a distraction-free environment.
84 percent of our audience lives full time in the Columbia County area
87 percent have college or advanced degrees
40 percent of our audience have been contributors to the Crandell operations and capital fund
97 percent of our audience sees a film at the Crandell an average of eight times during the year, including Sunday afternoon screenings.
Virtually, 90+% of our audience has attended FilmColumbia at least once in the past five years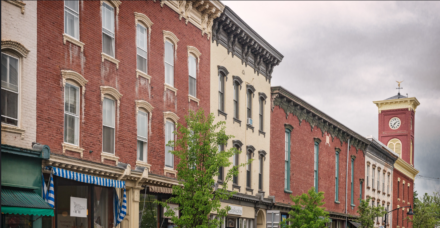 When you choose to advertise at the Crandell, you become an integral part of our community-supported nonprofit movie house in Chatham's primary retail and restaurant business district. Digital display ads start running on screen 30 minutes before the evening film and display for nine seconds each. Advertisers can provide either one or two designs and their ads will display a total of four times before each show. Weekly film programming consists of eight showtimes, Thursday through Sunday, every week. That's 64 repeated placements each month. And during the 10-day FilmColumbia festival in October, your ads will be shown before more than 40 showtimes. Our rates are unbeatable.
Rates
Payment for the first month is due upfront. Discounts are available for nonprofit and community groups and if you prepay for 6 months or longer.
$85/mo (except October)
$135/mo (October/FilmColumbia)
6-month Prepayment Plan: $475 (regularly $510)
6-month Prepayment Plan including October/FilmColumba: $525 (regularly $560)
Please see our downloadable advertising specifications and technical details, below, for more information about file sizes and required formats.
To advertise, email Dawn Steward (dsteward@crandelltheatre.org) or call 518-392-3445.