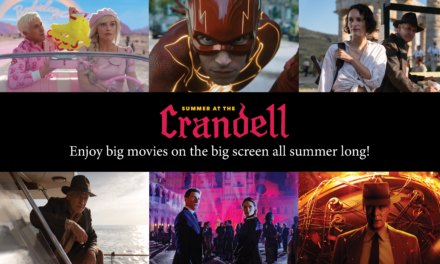 Blockbusters, discounted matinees, live performances and more!
(Chatham, NY, June 12, 2023) — School is almost out and that means a slate of soon-to-be-released blockbusters is coming to the Crandell Theatre seven days a week. The theater's special summer schedule, launching on June 15, includes hotly anticipated films The Flash, Indiana Jones and the Dial of Destiny and Mission: Impossible – Dead Reckoning Part One, plus a live Chatham SummerFest children's musical performance featuring the Columbia County Youth Theatre. The Flash, Indiana Jones and Mission: Impossible will screen during new Wednesday matinees at 3 pm with discounted ticket prices. The Flash will also have additional matinees on Fridays at 3 pm at the regular ticket price.
For all summer showtimes and to reserve tickets visit crandelltheatre.org.
The Crandell's new summer schedule coincides with the special preview opening night of The Flash on June 15 at 7 pm. The latest DC Comics tentpole, The Flash is already being hailed by critics as the superhero blockbuster of the summer. It premieres in nationwide release on June 16. With something for everyone, The Flash stars Ezra Miller and multiple Batmans across time, including a scene-stealing Michael Keaton. Even celebrated author Stephen King, not a fan of superhero movies, loved the action-packed film. After watching an advance screening he found it "heartfelt, funny, and eye-popping." Come see it in Chatham on June 15 before the rest of the world!
Chatham SummerFest, the village-wide annual seasonal celebration happening this year on July 8 from 11:00 am – 4:00 pm, will feature two Crandell special events. First, at 11:00 am, the Columbia County Youth Theatre will take to the Crandell Theatre stage for a free performance Could You Hug a Cactus?, based on the poems of Phillip Von Wagoner. The half-hour children's musical is adapted by Jessica Penzias, with music and lyrics by Denver Casado. All tickets are free of charge. Next up at 1:00 pm is a Chatham SummerFest screening of Indiana Jones and the Dial of Destiny, which opens on June 30 and runs through July 11. In celebration of SummerFest, kids are free with paying adults to this July 8 matinee. Harrison Ford returns to the role of the legendary hero archaeologist for this fifth installment of the iconic franchise and is joined by an all-star cast that includes Phoebe Waller-Bridge (Fleabag), Antonio Banderas (Pain and Glory, Puss in Boots) and Mads Mikkelsen (Hannibal, Another Round, Rogue One: A Star Wars Story).
Summer is also a wonderful time to rent the historic, 534-seat theater for your next group event. If you are looking for a unique way to celebrate and connect with family, friends, employees, campers and students, the Crandell has you covered! Contact dsteward@crandelltheatre.org or visit crandelltheatre.org/about/theaterrentals/ for more information.
This summer, when you need a break from the sun and rising temperatures, slip into the Crandell to watch an exciting new film amid the air-conditioned comfort!
About the Crandell
The Crandell Theatre is a 501(c)(3), not-for-profit organization showing a unique weekly blend of commercial, independent, and classic movies curated for the community's enjoyment on the Big Screen—the way movies are meant to be seen. The theater is supported by ticket sales and earned revenue, contributions of members and friends, and private and public grants, including the New York State Council on the Arts with the support of Governor Kathy Hochul and the New York State Legislature. The nearly 100-year-old theater, Columbia County's oldest and largest single-screen movie house, is listed on the national and state registers of historic places. For information, visit the website, crandelltheatre.org, or call 518-392-3445.