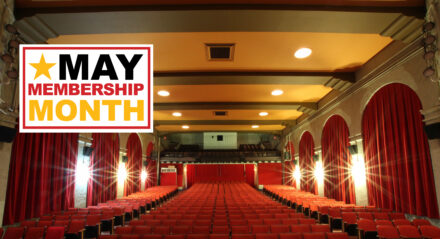 KICK-OFF MEMBER DAY: May 6, 10 am – 4 pm
The Crandell Theatre invites area residents and families to participate in a day of free film-themed activities on Saturday, May 6, from 10 am to 4 pm at the historic theater in Chatham, New York. The program includes family short films, tours of the theater, photo opportunities with film celebrity cutouts, and marquee cookies created for the occasion by Pooky Amsterdam of PookyStudio. Admission to the regularly scheduled 1 pm screening of The Eagle Huntress, an award-winning documentary about the first female eagle hunter in twelve generations of a nomadic Mongolian family, is free for new and current members. Those who join the Crandell or renew their memberships on May 6 or anytime during May receive free admission to all films during the month.
According to Annie Brody, Crandell Theatre Executive Director, "The May 6 kick-off for our Membership Campaign gives people the opportunity to tour the theater and to see movies on the big screen as they were meant to be seen. We hope that these activities renew people's enthusiasm for cinema and draw attention to the important role the Crandell has played in the community for nearly 100 years." At the event and throughout May, says Brody, "we are encouraging people to consider annual membership in the Crandell. Membership sustains the theater and, increasingly, helps keep the cost of box office tickets low and provides curated film programming through the year."
Individual annual membership in the Crandell is $75, and includes $3 off adult tickets and one free popcorn at every regularly scheduled screening, as well as advance purchase of tickets for the nationally acclaimed FilmColumbia festival held in October and additional benefits. The highest membership levels also include free admission to all screenings and invitations to special film events with celebrated film professionals.
For information about membership in the Crandell Theatre, visit  crandelltheatre.org, or call 518-392-3445.