A New Saturday Matinee Film + Activity Series for Families
This family-focused Saturday series of contemporary classic children's films  was created for Chatham-area families with children ages 3-12 in mind. Each film, selected by our new Parent Advisory Task Force and screening each month on the fourth Saturday from January through April, is paired with guest presenters and fun, theme-centered activities.
We'll kick off the new series with the live-action/CGI adaptation of Charlotte's Web, E.B. White's timeless 1952 novel about the power of friendship and the cycle of life. Wilbur the pint-sized pig, content with his life, will do just about anything to avoid ending up on the dinner table come Christmas, including hatching a plan with a sweet spider named Charlotte who lives in the barn rafters above his pen. The film stars Dakota Fanning and a barnyard of voice talent that includes Julia Roberts, Steve Buscemi, John Cleese, Oprah Winfrey, Thomas Haden Church, André Benjamin, Cedric the Entertainer, Kathy Bates, Reba McEntire, and Robert Redford.
Series Opening Short: Angelo Saves the Cinema (4.5 min, 2022)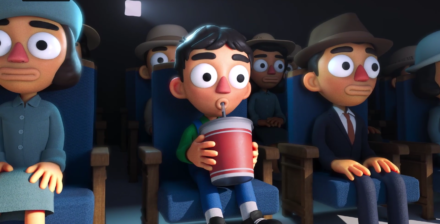 When he was a boy, sitting in the dark with his friends and neighbors at his beloved local cinema, Angelo fell in love with the movies. In dazzling, kinetic flashbacks, a much older Angelo relates how the theater's closure led him on a magical, popcorn-scented journey that brings everyone back to the big screen. Angelo Saves the Cinema is the debut film of 3D modeler Thomas Gambardella, a recent graduate of New York's School of the Visual Arts. We are thrilled to open our new series with a work by an up-and-coming filmmaker, especially one that celebrates the magic of the movies.
Pre-Show Guest Speaker/Activity: Chatham Animal Haven's Colleen Carpenter-Rice, who rescues goats, pigs, sheep, chickens and other farm animals in need of a good home, will talk about her experiences raising a real-life Wilbur!
Post-Show Activity: Terry Hutchison from Traveling Therapy Pigs will stop by with Albert Ein-Swine, as well as her newest therapy pig, Marilyn Swine-Roe, a 14-week-old piglet.
Special Admission: $5 per ticket
For more information about upcoming films in the series, visit the Crandell Kid Flicks page here.
"Gary Winick's film…honors its source and captures the key elements that have made E. B. White's book a classic." — A.O. Scott, The New York Times
directed by
Gary Winick
written by
Susannah Grant, Karey Kirkpatrick, Earl Hamner Jr.
with
Dakota Fanning, Julia Roberts, Oprah Winfrey
country
United States, Germany, Australia