The Crandell Theatre is very pleased to announce the launch later this month of Crandell Kid Flicks, a new family-friendly Saturday matinee series of contemporary classic children's films (animated and live action) offered January through April on the fourth Saturday of each month at 1 pm. The series aims to provide the youngest moviegoers with fun, safe, exciting and positive opportunities to become engaged in the arts. Chatham's beautiful, historic, single-screen movie house is the backdrop for an afternoon of educational fun that puts each film into special focus for these budding film lovers.
This new series was created for Chatham-area families with children ages 3-12 in mind. Each film is paired with guest presenters and fun, theme-centered activities.
Special Admission: $5 per ticket
Crandell Kid Flicks is curated by the Crandell's brand new Parent Advisory Task Force and co-chaired by Mirissa Neff and Elan Bogarín, two Chatham-based filmmakers with young children. Activities and special guest speakers will be announced and promoted prior to each screening.
The 2023 Program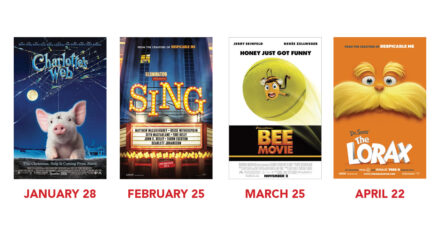 January 28 at 1 pm
CHARLOTTE'S WEB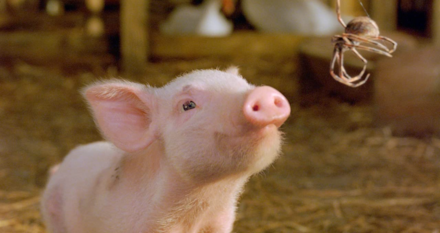 Series Opening Short: ANGELO SAVES THE CINEMA (at top)
When he was a boy, sitting in the dark with his friends and neighbors at his beloved local cinema, Angelo fell in love with the movies. In dazzling, kinetic flashbacks, a much older Angelo relates how the theater's closure led him on a magical, popcorn-scented journey that brings everyone back to the big screen. Angelo Saves the Cinema is the debut short film of 3D modeler Thomas Gambardella, a recent graduate of New York's School of the Visual Arts. The Crandell is thrilled to open this new family series with an encore screening of a work by an up-and-coming filmmaker, especially one that celebrates the magic of the movies. (4.5 min, 2022)
Pre-Show Presentation: Chatham Animal Haven's Colleen Carpenter-Rice, who rescues goats, pigs, sheep, chickens and other farm animals in need of a good home, will talk about her experiences raising a real-life Wilbur.
Post-Show Visit: Terry Hutchison from Traveling Therapy Pigs will stop by with Marilyn Swine-Roe and Albert Ein-Swine, as well as her newest therapy pig, a 14-week-old piglet.
February 25 at 1 pm
SING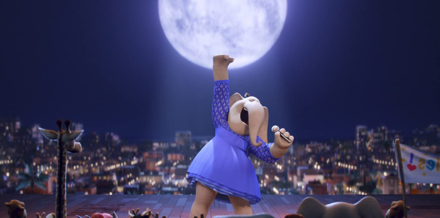 In a city of humanoid animals, a hustling theater impresario's attempt to save his theater with a competition like American Idol brings all kinds of would-be singers, talents and styles to the stage. This toe-tapping, computer-animated comedy starring Matthew McConaughey, Reese Witherspoon and Seth MacFarlane features a massive, comedic and gifted voice cast that includes Jennifer Hudson (Dreamgirls), Taron Egerton (Rocketman), and cameos from film directors Wes Anderson (Fantastic Mr. Fox), Chris Renaud (Despicable Me) and Edgar Wright (Baby Driver). Directed by Garth Jennings and Christophe Lourdelet. (PG, 108 min, Universal Pictures, 2016)
March 25 a 1 pm
BEE MOVIE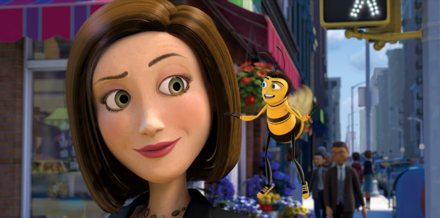 Barry B. Benson (Jerry Seinfeld), a bee who has just graduated from college, becomes disillusioned with his inevitable career choice: making honey. On a special trip outside the hive, Barry is saved by New York City florist Vanessa Bloome (Renée Zellweger) and their unlikely relationship blossoms. He soon discovers, however, that humans like to eat honey, and subsequently decides to sue them. This computer-animated comedy was directed by Simon J. Smith and Steve Hickner from a screenplay by Seinfeld, Spike Feresten, Barry Marder and Andy Robin. Matthew Broderick, John Goodman, Patrick Warburton and Chris Rock round out the stellar voice cast. (PG, 90 min, DreamWorks Animation, 2007)
April 22 at 1 pm (Earth Day)
DR. SEUSS' THE LORAX
An eye-popping, 3D computer-animated update of the beloved original book and 1972 cel-animated TV movie, Dr. Seuss' The Lorax features the frenetic and hilarious voices of Danny DeVito, Ed Helms, Zac Efron, Taylor Swift and Betty White. Directed by Chris Renaud, the film follows Ted, a 12-year-old boy living in a world devoid of nature who searches for the one thing that will win over the girl of his dreams. To find it, he must first discover the story of the Lorax, the grumpy yet charming creature who fights to protect his world. (PG, 86 min, Illumination Entertainment, 2012)
Outreach
In addition to featuring the series in theater email blasts, website promotion, through local press mentions, on community boards, and through the Chatham PTA, we plan to distribute a large theater poster, smaller posters, and postcards in shops and local businesses that serve families with young children. We will also collaborate our promotion efforts with family- and child-oriented community groups on social media and with the Chatham School District and Chatham Public Library.
Parent Advisory Task Force Co-Chairs
Mirissa Neff is a journalist and filmmaker with more than a decade of experience telling human stories through the lens of art and culture. She has worked as a producer and correspondent for PBS's Sound Tracks: Music Without Borders, PBS's Quick Hits, and National Geographic's Voyager, has reported for public radio programs including WNYC's Studio 360 and BBC/PRI's The World, and was commissioned by PBS to complete a survey and audio history of iconic civil rights era photography. Her debut feature documentary This Is National Wake had its world premiere in competition at Sheffield DocFest 2022.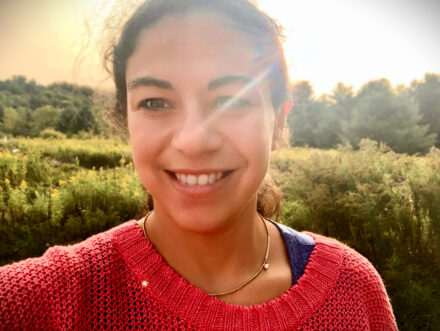 Elan Bogarín is an Emmy-winning Venezuelan-American director/producer. Her feature film 306 Hollywood, called a "landmark" by rogerebert.com, premiered on the opening night of the 2018 Sundance Film Festival, was featured in over 10 "Best of 2018" lists, played over 85 festivals, won multiple awards, and was broadcast on PBS's POV and Amazon Prime. Elan has been nominated for Emmy, Gotham, Spirit, and Critics Choice awards and was chosen for Filmmaker Magazine's 25 New Faces of Film, DOC NYC's 40 Under 40, and Emerging International Filmmaker at Hot Docs. Elan is the co-director of El Tigre Productions, which creates innovative and award-winning films for the world's leading museums and brands including Google, MoMA, The Getty, The Whitney, and The New York Times. She is a co-founder of the Wassaic Project, an arts festival and residency in Wassaic, New York, that has worked with over 1,500+ creatives and 34,000+ visitors from around the world.