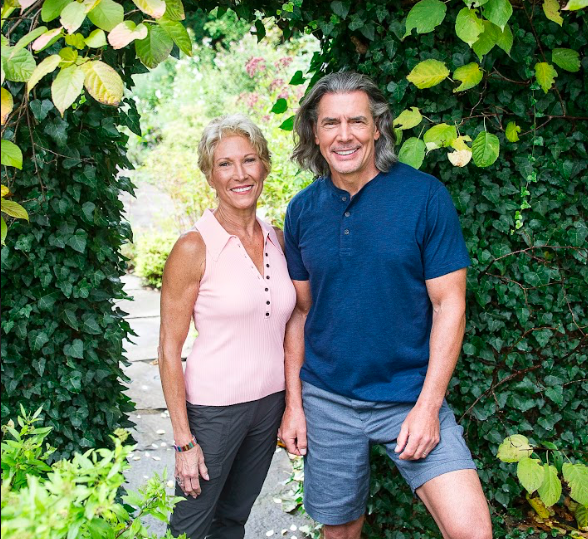 VIEW TRAILER HERE: GardenFit 60
GardenFit is presented for public television by The WNET Group and distributed by American Public Television.

With the gardening season just around the corner, Crandell Theatre presents the area premiere of GardenFit, a new 13-episode public television series highlighting garden styles and techniques, while providing advice and solutions for gardeners' aches and pains. Columbia County residents, creators, and co-hosts of GardenFit, Expert Gardener Madeline Hooper and Fitness Trainer Jeff Hughes will introduce two 30-minutes episodes and conduct a question and answer session.
The event will be held on SUNDAY, MARCH 27, 2022, 1 PM.
Refreshments follow the program. Admission is $10/person, Crandell Theatre Members admitted at no charge. Memberships may be purchased at the theater prior to the program. Online reservations are required along with proof of vaccination and masks. Memberships may be purchased online or prior to the program at the Box Office.
In GardenFit, co-hosts Hooper and Hughes visit more than a dozen stunning private gardens and specialty farms across America, learning about each unique environment and its knowledgeable owner. Every show starts with a tour of the property, highlighting the distinctive gardening style while discussing insights, tips and techniques before discussing the owner's physical aches and pains. "We're not teaching people how to garden, " says co-host Hooper, "We're starting a GardenFit movement that integrates gardening with fitness techniques to prevent aches and pains."
After moving to Columbia County 40 years ago, Madeline Hooper devoted herself to two passions: gardening and ballroom dancing. When she retired from her professional career in public relations in New York City, she moved full time to Canaan and her passion for gardening grew.  Hooper and her husband have created an extensive ten-acre garden, Rockland Farm.  During this time she has enjoyed visiting many of the finest gardens in the United States and Europe, and developing relationships with leading horticulturalists, garden designers, and plantspeople. She was invited to become a trustee of the Brooklyn Botanic Garden and then the Berkshire Botanical Garden, where she has served as vice chair for the past ten years.
Jeff Hughes is an award-winning fitness trainer with more than three decades of experience. In 2004 Hughes moved to Columbia County, where he opened TrainerFit Studio in Chatham. There he coined the phrase: "Train the mind, the body will follow," based upon the philosophy that bodies accept new habits that make sense. Hughes holds a B.S. in Physical Education and began working as a fitness trainer 1988 at the Turnberry Spa in Miami. He has owned and operated fitness businesses in Los Angeles and New York City.
GardenFit is coordinated with the Crandell's new annual membership program that maintains the $8 box office ticket price for Crandell members and hosts members' events focused upon film throughout the year. Membership in the Crandell supports one of the few remaining big screen, not-for-profit community movie theaters in the United States and FilmColumbia as well as other film programs. For further information and to purchase a membership, visit Become A Member.