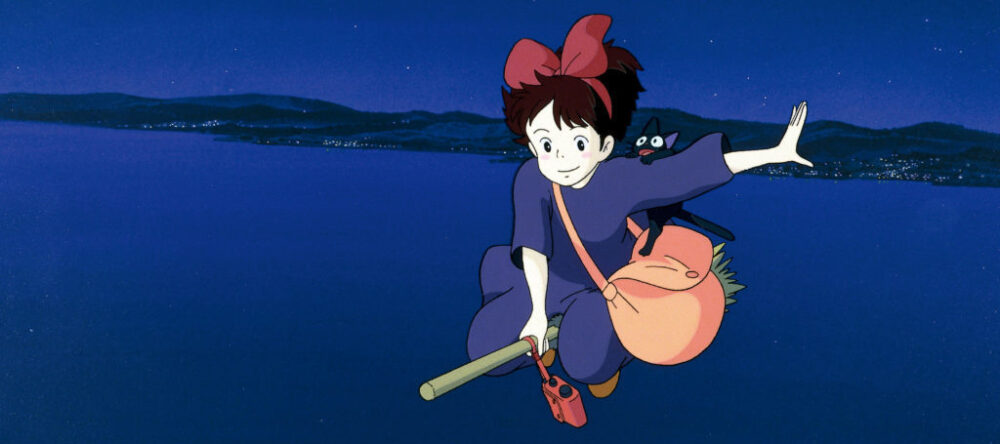 AN EARLY HALLOWEEN TREAT!
As Kiki, a young witch, learns to fly above the extremes of her budding overconfidence and frustrating self-doubt, she gets a lesson in the true value of independence. This gently moving celebration of girlhood and the animator's art comes from Japanese director Hayao Miyazaki (My Neighbor Totoro, Howl's Moving Castle, and the Oscar-winning Spirited Away). With gorgeous, hand-drawn animation, much of it rendered by Miyazaki himself, the film is a richly textured tale that will delight viewers of all ages. Redubbed in 1998 for American audiences, this version features the voice work of Kirsten Dunst and Phil Hartman, in his last role, as Kiki's wisecracking black cat.
Miyazaki has always approached his work with meticulous, playful precision. It takes the director and his team an entire month to complete just one minute's worth of animation. Although he officially retired from Studio Ghibli in 2014, he's back at it, currently animating his latest feature about the life and influences of a teenage boy, one frame at a time.
"Even by Hayao Miyazaki's elevated standard, Kiki's Delivery Service is a singularly charming film." — Charles Solomon, IndieWire
directed by
Hayao Miyazaki
written by
Eiko Kadono, Hayao Miyazaki
with
Kirsten Dunst, Phil Hartman, Minami Takayama, Rei Sakuma
country
Japan